I find myself riding again towards Mordor, towards that dark place from which I should flee, but the shadows that haunt me, that haunt my days, that try to bring down the house of cards of happiness, will not go away until they achieve their desire to destroy me. I must go there, to that inhospitable land, face all the evil that wants to haunt me. Wherever those unscathed shadows, tireless and insatiable demons of misfortunes and stark sorrows come from.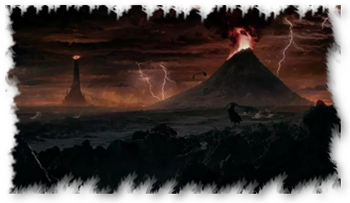 I could also stay and live there, but who would want to live in a place like this, because I already did. Dark years of dirt and desolation, where to have hope is a sin and to be happy is something absurd. Long years that left traces in my soul, dragging shadows that leave marks behind me, with which they can find me again.
I miss the shire; its eternal spring, its land that always produces sweet fruits, there happiness is breathed, hope is imposed like the sun in a sky without clouds that overshadow it. I want to be surrounded again by his people, small in size but great in heart, and nobility.
I must go on, yes, I will fight against beings of imposing appearance and frozen heart. For my life and that of my people, I will not give up, there will be no shadow to shade my light, no sword to surrender. I will one day reign over my destiny and protect the grounds of my heart so that nothing and no one can attack it and destroy it again.
---
Translated from my original:
Also published in:
Material from other authors:
cover page, swords, towers, mordor y the region(images edited by me)
---
Thank you for reading these words, thinking and feeling of my authorship.
---